Congratulations to Hollie Gilpin & Stafford Sprite winner of Best Inhand class
Keep up the good work
BETA TRADE FAIR – NATIONAL EXHIBITION CENTRE 21 – 23 JANUARY 2018
We are once again exhibiting at the BETA Trade Fair at the NEC the 21st of January and we are now making all the final preparations.
The Beta show allows us to showcase a selection of our saddles showing the many modifications we can offer and gives us the opportunity to meet with customers both old and new to discuss their individual needs.
We are very excited about the show so why not pop along to Stand G11.3 and see if there is anything we can do for you.

Congratulations to Charlotte Temple & Disney, the winners of the mane shows Youngstock class .  WELL DONE
Congratulations to Mary Johnson & Bobby Joe the winner of the Best hunter type class in the mane show competition 
well done to both of you. 
---
Congratulations to Sara McComb with  CLAS ACT.  She is the winner of the Best In Hand Horse/Pony Class in the August Mane Show Competition
A class act he certainly is, don't you agree?
---
Congratulaltions to Amy Halliday with  her mare JJ who has won this months Supreme Champion at the Mane Show.   At the age of 22, JJ is extremely versatile and well deserves the title.
Well done to you both.
---
'CONGRATULATIONS TO JULIE WILLIAMS AND HER HORSE WOODY.
FOR WINNING CLASS 2 - BEST IN HAND HORSE AND PONY -DOESN'T HE LOOK GRAND.
---
---
Mane Show Winner February 2017
Congratulations go to Laura Prior winner of the February Class sponsored by Kings Saddlery 'Foal to Fully Grown'.
Caehen Hot and Spicy – goes from cute to looking absolutely magnificent – don't you agree.
Well done Laura – your saddle leather care kit is on its way
---
The Mane show - February Class
We have been allocated the Foal to Fully Grown Class for February for the Mane Show. .
We can't wait to see the all the entrants – I am sure there will be some really adorable entries.
---
WE ARE SETTLING BACK INTO THINGS AFTER THE BETA TRADE FAIR.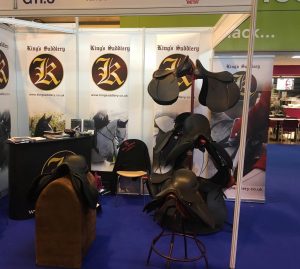 WE HAD A GOOD SHOW MEETING UP WITH MANY CUSTOMERS BOTH OLD AND NEW.
THERE WAS A LOT OF INTEREST IN OUR SADDLES – THE PATENT WINDSOR FEATURED BELOW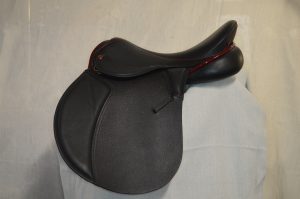 AND THE RED EDGE PAINT FINISH ON OUR KENSINGTON DRESSAGE SHOWN HERE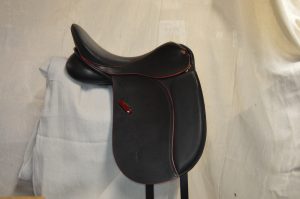 MUCH INTEREST WAS ASLO SHOWN IN OUR HIGHGROVE JUMPING SADDLE FEATURING THE NEW MOULDED ROLL.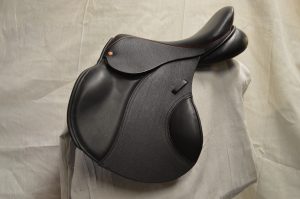 TIME NOW TO CATCH UP ON TASKS IN HAND AT THE FACTORY.
HOPE BETA WAS A SUCCESS FOR EVERYONE AND THANK YOU ALL WHO VISITED THE STAND.
---
The mane show
Not everyone is able to attend shows and competitions, and the Mane Show gives all riders and horses who are unable to attend their local shows the opportunity to take part by sending in photos and videos of themselves and their horse to www.themaneshow.co.uk.
There are loads of different classes, take a look at www.themaneshow.co.uk – there must be one you can enter.
Congratulations to Claire Lewis on winning the Best Allrounder Class in the Mane
Show December Competition.
Leo certainly did her proud.
Well done!